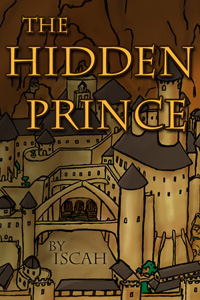 A free weekly serial that began in November of 2014 and finished in June 2015. It is currently unavailable while it goes through additional editing.

Genre: Fantasy
Length: not finalized
A young prince's life has many secrets, secret passages, secret histories, secret companions, but the biggest secret of all is the young prince himself...

Reading Order: The Hidden Prince is the third story of four in the Before the Fairytale set, chronologically overlaps The Girl With No Name and Horse Feathers and acts as prequels to Seventh Night. The author suggests reading Seventh Night first.

Author's Suggested Order: Seventh Night followed by the Before the Fairytale set: The Girl With No Name followed by Horse Feathers followed by The Hidden Prince.